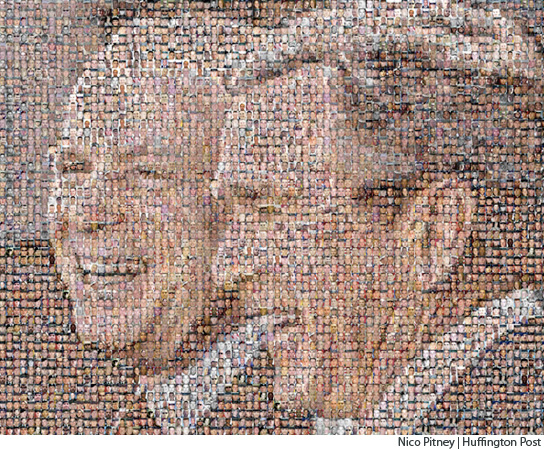 - Here is an amazing mosaic from
Nico Pitney.
It's the faces of the 4000 Americans killed in Iraq made into a picture of the men responsible for their deaths. Click on the image to see the large version, where you can pick out each face.
- Cafferty on CNN (finally)
talks about how Sinbad and Clinton seem to differ
on what actually happened on the 1996 Bosnia trip. (Didn't I see this as news on Americablog about 2 weeks ago?) Sinbad responded to Clinton's claim of danger;""What kind of president would say, 'Hey man, I can't go because I might get shot… but I'm gonna send my wife and daughter. Oh and take a guitar player and a comedian with you.'"
The Washington Post
has given her story "Four Pinnochios" because it's such a whopper.
JedReport on Daily Kos
documents the Hillary spin machine rolling into action.
Do you think (hope? pray?) that this story is a campaign killer?
- "Environmentalists" have their panties in a bunch over the Iditarod again,
per The New York Times:
Animal-rights groups denounce the race, which requires dogs to pull sleds weighing 250 pounds or more across mountain passes, frozen lakes and tundra in biting winds and temperatures that can dip below minus 50, a journey that can take 9 to 18 days.

"The death toll continues to mount," Lisa Wathne, a spokeswoman for People for the Ethical Treatment of Animals, said in a telephone interview. "This is a grueling event that is cruel and inappropriate to the dogs, who obviously don't have a choice in the matter."