23 days and counting...
...until we spend the night here...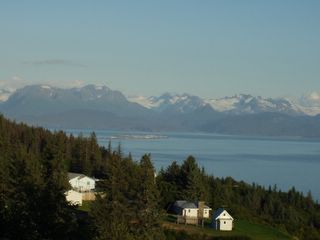 A view of the Homer, Alaska Spit (in the water in front of the mountains)

We are spending our wedding night (i.e. collapsing on a bed in a fit of exhaustion) in a B&B in Anchorage. After brunch with all of the relatives on Sunday, we will be heading out to spend the night in Homer, then launch the boat the next day for our week-long trip to Seldovia.
I...CAN'T...WAIT...!!!!!!!!!!!!!!